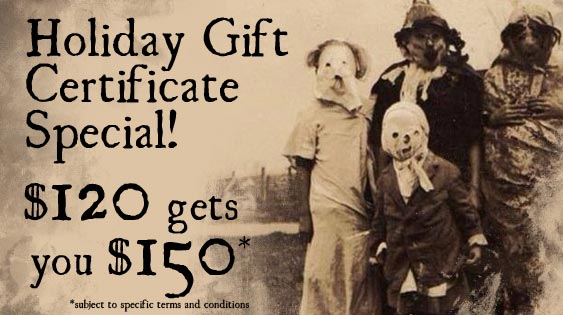 It's that time of year again! Tattoo gift certificates are an excellent gift, whether it's for something new, or to fix / cover old work, give the gift that lasts! Fresh ink!
Between now and December 31st, $120 gets you $150, $240 is worth $300, and $300 = $400!!
You can now order gift certificates online. Click on one of the links below to select certificate. Please add note as to whom it is for!
Terms and Conditions:
May not be used on yourself or on day of purchase. That's why they're called *gift* certificates
Not combined with any other offers
Non refundable / balance is not transferable
Unused balance will be considered credit, useable toward future work. Not valid for merchandise.
Recipient must be at least 18 years of age at time of redemption
Gift certificates purchased online will be kept on file at our location. No physical certificate will be sent